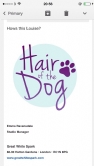 Louise Hay
Dog grooming salon offering Mobile Micro-chipping service in Lincoln and surrounding areas, highly competitive pricing starting at just £10.00 per pet, offering both standard and mini-microchips for implantation. Friendly and professional. Will chip litters with breeders before leaving for new homes. Also offer nail trimming and pet products available to buy.
Contact Information
Telephone:
01279 507363
All calls will be forwarded by Peddymark. Please quote the implanter name when calling:
Louise Hay
Website:
Click here to visit my website
Location
Address
Bardney
Lincoln
Lincolnshire
LN3 5SL
Contact Louise Hay
Please enter your enquiry below and we will get back to you as soon as possible.
Services Provided
Grooming to meet all requirements